You're invited to share with us our
Feast of Gratitude!
Thursday, November 27th
Seating from 2:30pm
Family-style Dinner from 3pm

Adults $30; Keiki under 12 only $6; Babies are FREE

Reservations are appreciated.
(Just like Gramma, we have to know how many potatoes to peel!)

Menu

Family-Style

("pass the potatoes, please")

Lilikoi-Orange "Mimosa"

Sparkling water with the juices of Fresh

Lilikoi (Passionfruit) & Oranges

Blueberry "Champagne"

Blueberries in sparkling water for a delicate fruity sweetness

Hibiscus Ginger Mate'

Freshly pressed Yerba Mate, dried Hibiscus Flowers & Juice of local Ginger

Spiced Citrus Apple Cider

Infused with Cardamom, Cinnamon, Cloves, Nutmeg & Orange Peel. Served warm.

Beet Citrus Vanilla Cooler

Fresh juices of Lemon, Lime & Orange with a bit of beet and a smidge of vanilla sugar.

♥

Sweetly Baked Breads & Spreads

Banana Bread, Pumpkin Cranberry Bread & Sweet Potato Cinnamon-Raisin Bread served with various jams & sweet spreads

Savory Bread & 3 Dipping Oils

Dip your bread into one or all of the various Savory Dipping Oils!

♥

Creamy Spiced Pumpkin Soup

First we roast the pumpkin (seeds, too!) then puree it all with Spices & Coconut Cream

♥

Shiitake & Asparagus Polenta

We LOVE Polenta! Folded into the Polenta are Shiitake Mushrooms and Local Asparagus along with herbs and good 'ol salt & pepper. (himalayan salt and white peppercorns)

Apples & Flowers Balsamic Date Salad

Apple "petals", Cucumber & Mac Nuts on a bed of Mixed Young Salad Greens & Edible Flowers (Arugula, Chard, False Tarragon, Mesculin, Mustard, Nasturtium, Radicchio, Tatsoi, Kale) Drizzled with a sweet Balsamic-Date Dressing

Sweet & Savory Wild Rice

Wild Rice with Apples, Cranberries, Figs, Raisins, Almonds, Celery, Green Onion & Garlic

♥

Seasoned Wilted Greens

Kale & Collards dragged (ever so gently) thru steamy water to wilt slighltly, then dressed in a Citrus-Tamari Sauce

Roasted 5-Spice Pumpkin Wedges

Various Pumpkins & Winter Squash roasted in Coconut Oil & Chinese 5-Spice Seasonings

Candied Sweet Potato Casserole

"Traditional" Candied Yam-style but sweetened with Brown Coconut Sugar & Maple Syrup. Complete with Vegan Marshmallows!

Good ol' Mashed Potatoes

Just like Gramma used to make...sort of.

Rosemary Roots

Seasonal Roots roasted in Olive Oil & seasoned with Fresh Rosemary and White & Black Pepper

♥

Three Mushroom Gravy

This Gravy is made with Shiitake, Miitake & Reishi Mushrooms and blended with various Local Veggies & Herbs and Spices. We thicken the gravy with Cassava Root

Cinnamon Roasted Apples

Cranberry Sauce with Orange & Basil

♥ ♥ ♥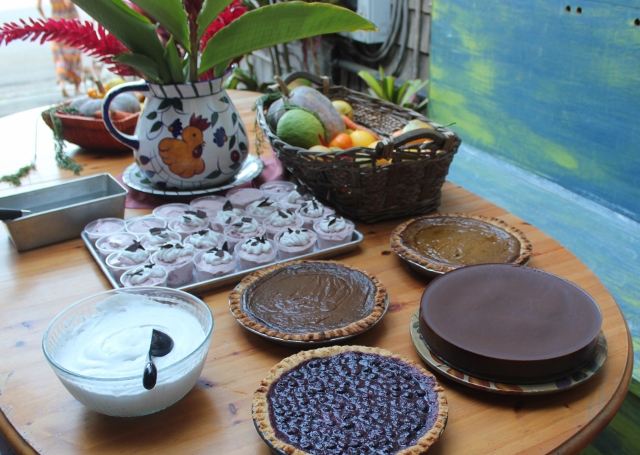 ♥

Apple Pie

Blueberry Pie

Mango-Lime-Ginger Pie

Sweet Potato Pie

Pumpkin Pie

Coconui®Dairy-Free Ice Cream

♥

Tea

Masala Chai

French Press Kona Coffee

♥ ♥ ♥

Enjoy!


~ Acknowledgement of Gratitude ~

For great Organics, Mahalo!

Aikane Nursery

Ano' Ano' Farms

Daniel & Sara

Hamakua Mushrooms

Honopua Farm

Josh

Kohala Organics

KyleOrganics

Lone Palm Farm

Lokahi Garden Sanctuary

Love of Life Farm

Peter Risley

Pushaw's Plants

Sage Farm

Tim Reed

Uluweh Farm

For faith, fruits, love & support, Mahalo ♥

Anne & Andrew, Anna, Amanda, Aurora, Bob, Bobbi, Brie, Caroline, Catalina, Dan, Debra & John, Hawi Gallery, 'Iole Foundation, Jimi, Jim & Leah, Kava Kafe, Kokolulu Retreat, Kristan & David, Lea & Steven, Leeza, Lucas, Maury, Naomi, Neville, Padma & John
Paradise Postal Service, Pua, Rachel & Joey, Scott, Sushi Rock, Ted, Tony, Travis, Val & Peter, Vince, Von & Susan, Warren, Yuri, Yvonne

To Malia, my right hand, Mahalo!

Thank you, to my Sister Karen.

And to my Son a special Mahalo. ♥

Because of You, there IS Sweet Potato Kitchen.


Eat and Live Aloha!