Aloha!

We're so glad you've come to visit!
Feel free to leave comments on our Contact Us! page.
And if you would like to call...
808-345-7300
About the Kitchen...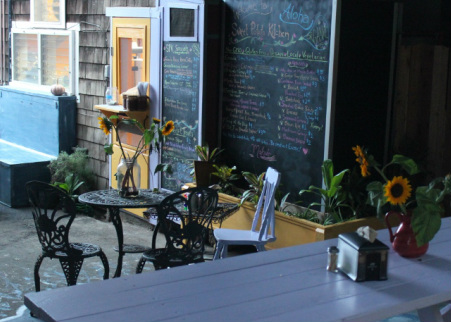 Sweet Potato Kitchen seems to have a life all her own...
I was really just looking for a Kitchen close to home, where I could make my Coconui Frozen Mousse and other various Sweets & Treats. My plan was to package and sell them at the local farmers markets and maybe even get a product or two on the shelves of the stores here on Big Island.
I felt like there was a niche to be filled..."Ice Cream" and Sweet Treats that are 100% non GMO, Organic, Gluten-Free, Dairy-Free & Vegan (or 'Bee'gan... That's Vegan but with Local Raw Honey added for sweet healing. I believe that Honey is so incredibly good for Us, I think of it as a beautiful gift from Mother Gaia herself.)
The moment I signed the lease on this Kitchen, people started asking "Will we be able to come and get Coconui there?" "Will you be open for breakfast?" "What about lunch? Lunch would be great!" A menu began to form. First just Oatmeal and maybe a Soup... Then Rice & Grain Salads... Muffins! Biscuits & Gravy! 'Meat'loaf! Sweet Potato Fries! Shakes! Teas! The menu grew and so did the excitement. "I hope you'll have Vegan dishes!" "You'll have smoothies and fresh juices, won't you?" One thing we all knew for sure was that whatever was going to be served there, the ingredients would be sourced exclusively from Non-GMO ingredients! The local farmers would be the suppliers of everything possible and anything not available locally would have to be shipped in - if that was the only way to insure we were getting "clean" food! The menu would be designed around the crops and harvests of the Farmers of North Kohala.
Everything coming together.





---