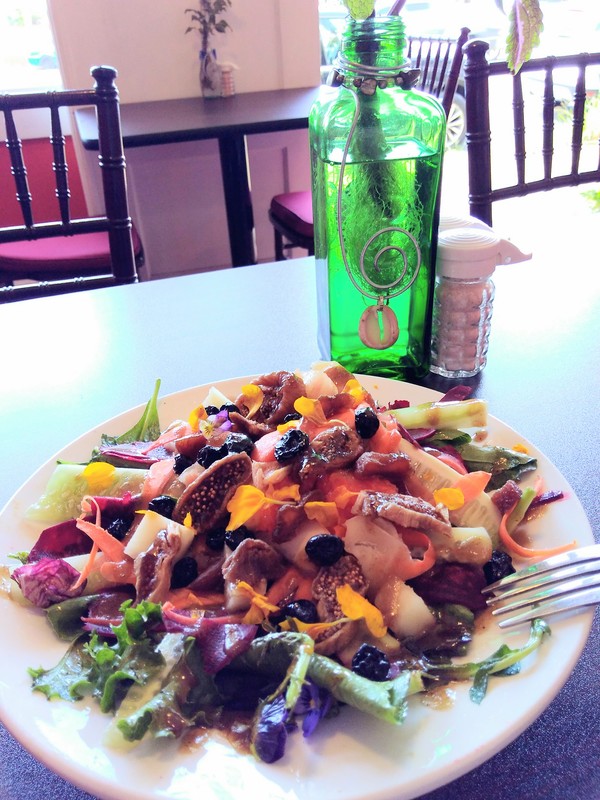 ~ 100% Organic ~ 100% Gluten-free ~
We never compromise.
________________________

Serving Vegan Comfort Food
with Vegetarian Options

Breakfast & Lunch
Monday thru Friday
9:30am to 3:30pm
Weekend Brunch
Saturday & Sunday
​11:00am to 2:00pm
---
---
---
---
---
---
---
---
---

Start your day, anytime.
All menu items are available... all day.

Maple Granola $8
Freshly roasted Oats, Dried Blueberries & Raisins, Coconut, Sunflower Seeds, Coconut Oil, Himalayan Salt
Sweetened lightly with Baked in Maple Syrup & Coconut Sugar. Served with Creamy Coconut Milk
Did you want to add fresh fruits to your Granola? Ask your Server about our Seasonal Local Fruits...
"Awesome granola!" ~ Rory1004

Rich Fruity Oatmeal $9
Here it is! Creamy Oats with Sweet Potato, Raisins, Apricots, Dates, Figs, Berries and warming spices
served with Sliced Banana, Maple Syrup, Coconut Cream & Macadamia Nuts
"the best oatmeal we've ever had" ~ Bishop C. from St. Augustine, FL
________________________

Big Berry 'Energy' Bowl $14
A Big Bowl of Mixed Berries & Banana Puree topped with Maple Granola, Sliced Bananas and Seasonal Local Fruits Drizzled with Maple Syrup (or Honey Syrup upon request) and Toasted Coconut. Dusted with Ceylon Cinnamon
________________________

Belgian Waffles!
We make our own gluten-free Waffle mix and use *local organic ☼eggs in the batter.
*VEGAN Belgian Waffle available upon request.

Simply Sweet Belgian Waffle $8.50
Our 7" Belgian Waffle served with Local Sliced Banana & Organic Maple Syrup.
Simply Delicious.

Hawaiian Fruity Belgian Waffle $12.50
Enjoy the Local Seasonal Fruits of North Kohala atop our golden Belgian Waffle, Served with Local Honey Syrup
Ask your Server what Today's Local Seasonal Fruits are...

Sweet Elvis Belgian Waffle $12.50
Elvis may have left the building but he left his yummy Waffle with us!
Layered with Homemade Peanut Butter and Sliced Local Banana topped with Chocolate Sauce

Savory Belgian Waffle $14
Herb-Seasoned Waffle layered with Seasoned Wilted Greens, ☼Two Perfectly Poached Eggs
covered with Mushroom Gravy

Add any of the following Waffle toppings $2 ea
Maple Granola, Homemade Peanut Butter, Jam, Chocolate Sauce
________________________

Perfectly Poached Eggs on Fresh Baked Bread $8
☼Two Perfectly Poached Eggs served atop our Fresh, hot-outta-the-oven Bread covered in Mushroom Gravy

Huevos Paniolos $15
Tomato-Chili Polenta, Cuban-Spiced Beans, Avocado, Salsa Fresca, Seasoned Wilted Greens and
☼Two Perfectly Poached Eggs.
Vegan Version ("No eggs, please!") $13.50
"The beans are the best thing I've ever eaten" ~ Vijay N

Curry Plate $13.50
Curry Polenta Cake, Brown Rice, 5-Spice Roasted Pumpkin and Seasoned Wilted Greens
topped with Creamy Curried Pumpkin Sauce & Roasted Pumpkin Seeds
________________________


Bounti♥Burger
(aka Beetsteak) It's our House Veggie Burger Made from
Veggies, Beans, Seeds, Grains & Fruit with herbs, spices & seasoning
"The veggie burger is a must!" ~ Marco A. from Newbury Park, CA

Bounti♥Burger Plate $12
Our House Veggie Burger Patty, Purple Smashed Sweet Potato, Seasoned Wilted Greens & Triple-Mushroom Gravy

Bounti♥Burger Classic $12
We build our 'Classic' beginning with our Bounti♥Burger and top with Local Tomato, Red Onion, Local Mixed Lettuces Sunflower Sprouts and Special Sauce (our Special Blend of oils, vinegars, tomato, herbs & spices) all on a Freshly Baked Hot-outta-the-Oven Bun served with a side of Green Papaya Sweet & Spicy Slaw and house Pickle

Boco Moco Bowl $10
Our vegetarian version of the popular Hawaiian dish, the 'Loco Moco' Brown Rice, topped with our Bounti♥Burger, a ☼Perfectly Poached Egg and slathered in Triple-Mushroom Gravy
________________________

Salads, Soups & Such

Green Papaya Sweet & Spicy Slaw $4

Seasoned Wilted Greens $4
Local Kale & Collards blanched quickly and seasoned with our Citrus-Tamari sauce.

House Salad $8
Fresh Local Mix of Lettuces, Cucumbers, Carrots & Tomato with your choice of Dressing
Creamy Ginger Dressing, Citrus-Sesame, Mediterranean, Sweet Balsamic Vinaigrette

Massaged Curly Kale & Carrot Salad $8
in a Creamy Ginger Dressing

Monk's Bowl $7
A humble but flavorful bowl of Brown Rice topped with Seasoned Wilted Greens served warm

Quinoa Mediterranean $9
Quinoa with Kalamata Olives, Red Onion, Cucumber & Tomato tossed in a Lemon-Olive Oil Vinaigrette
Served over Local Salad Mix

Fresh & Fruity Salad $11
Fresh Local Mix of Lettuces, Cucumbers, Carrots & Beets, Figs, Apricots & Blueberries and
Seasonal Fresh Fruits with Sweet Balsamic Vinaigrette
________________________

Simple Miso Mug $5
Live Brown Rice Miso, Green Onion & Nori 'Noodles'

'Forbidden' Shiitake Congee $8
Asian-style 'Forbidden' Black Rice Porridge with Garlic, Ginger & Shiitake Mushrooms.
Garnished with Green Onion & Roasted Peanuts.
Traditionally enjoyed with egg on top.
ADD ☼Perfectly Poached Egg $1.75

Farmers Garden Harvest Soup Lg $6/Med $4/Sm $3
A rich base of Red lentils, carrots, turmeric, ginger & garlic
Loaded with all the veggies from the local Farmers Markets!

Make it a Ramen Bowl! $12
We begin with FG Harvest Soup then add Brown Rice Ramen Noodles, Shredded Veggies, Green Onion & Sprouts
ADD ☼Perfectly Poached Egg $1.75
________________________

Add-ons and Extras...
create your own plate!

Bounti♥Burger (just the patty) $4
Smashed Sweet Potato $4
Brown Rice $3
Mushroom Gravy (Shiitake, Maitake, Reishi)2oz $2
Spiced Beans $3.50
Tomato-Chili Polenta $3.50
Creamy Curry Polenta $3.50
Seasoned Wilted Greens $4
Half Avocado (subject to availability) $3
Fresh ground Peanut Butter $2
Jam or Jelly (ask your server for today's flavors) $2
Sliced Banana $1
Papaya $2
5-Spice Roasted Pumpkin $3.50
☼ Perfectly Poached Egg $1.75
Fresh Hot-outta-the-oven Roll $2.50
☼ Consuming raw or under cooked eggs may increase your risk of food-bourne illness.

---
Hot Beverages
served in 12 oz mugs

French Press Local Kona Coffee $3
Kona Rose Coffee Beans. Roasted weekly, ground daily.

Roasted Chicory Root $3
Often enjoyed as a coffee 'substitute'

Guayusa Leaf $3
An Amazonian super-leaf naturally packed with caffeine and polyphenols,
provides a clean, smooth, focused energy with 50% more antioxidants than Green Tea.

Yerba Maté $3
From South America, delicious, gently energizing (contains caffeine) herbal tea.
The flavor is herbaceous and somewhat like green tea
________________________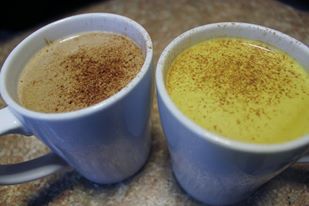 "Oh, and you must have the chai. Best I've EVER had" ~ bburago488 from Santa Barbara, CA

Masala Chai $6
India Black Assam Tea, Coconut Milk & Spices, sweetened with Honey or Coconut Sugar, dusted with Ceylon Cinnamon

Golden Milk $6
Coconut Milk, Turmeric, Ginger, Cinnamon, Black & Cayenne Pepper, sweetened with Honey, dusted with Cinnamon

Hot Cocoa $6
Our own blend of Coconut Milk, Cocoa, Coconut Sugar & Chocolate
________________________

Drink Tea.
Traditional, Floral, Ayurvedic & Herbal Teas

Hot Teas
100% Organic Sachet and Loose Teas $2/$3
(Please see our extensive list of Teas on our Tea Page!)

Cool Teas
served in frosty pint mugs $3

Nilgiri Black Tea
Nilgiri Black Tea from India has a medium body with a refreshing, robust, slightly citrusy flavor.
Served with Lemon Slice

Lavender Green Tea
Green Tea infused with Lavender Flowers

Double Mint Maté
Yerba Maté from South America is prized as a delicious, gently energizing herbal tea.
The flavor of the natural leaf is herbaceous and somewhat like green tea...
infused with Spearmint & Peppermint Leaves

African Flower Teas
Hibiscus-Honeybush & Rose-Rooibos
These Teas from Africa are slightly fruity and energizing but with no caffeine
________________________

Fresh-squeezed Citrus Juice Drinks
served in frosty pint mugs $5

Good ol' Lemonade
Beet Citrus Vanilla
Honey Lime Ginger

More Juice Drinks $5
Apple Juice
Apple-Beet-Ginger

Enjoy a Hapa-Tea (Arnold Palmer) $5
Half Tea/Half Juice – your choice
________________________

~ Smoothies ~

Energizer – African Tea, Banana, Mango, Ginger $7.50
Antiox – Green Tea, Blueberry, Honey $7.50
Green Apple – Apple, Banana, Blueberry, Kale, Maple $7.50
FreeDive – Apple, Beet, Blueberry, Ginger, Honey $7.50
Chai – Coconut Milk, India Black Assam Tea, Banana, Honey, Spices $9
Golden – Coconut Milk, Banana, Turmeric, Ginger, Cinnamon, Black Pepper, Cayenne $9
Banana-Berry 'Shake' – Coconut Milk, Banana, Blueberry, Strawberry $9

Additions: $ .50
Carob Powder
Chia Seeds
Cocoa Powder
Ginger
Hemp Seeds
Spirulina
Turmeric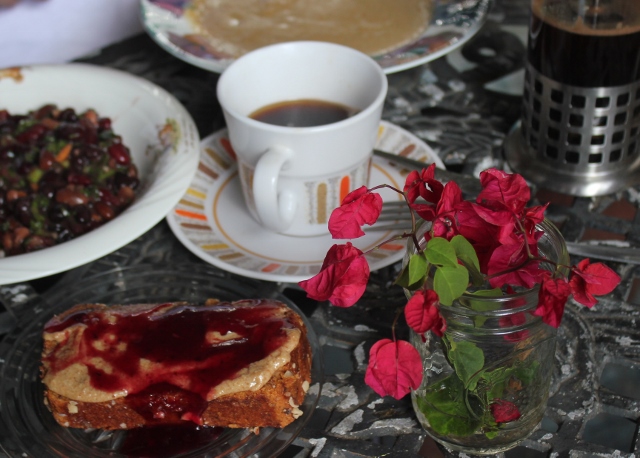 ---
Sweets & Treats

Not just for Keiki ☺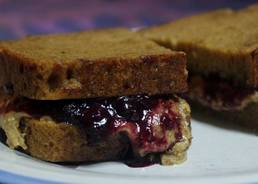 _Peanut Butter & Jelly on Banana Bread $7
Freshly Ground Peanut Butter and Homemade Jelly on
Hot-Outta-the-Oven Banana Bread!
Mashed Banana & Peanut Butter on Chocolate Chips Banana Bread $8
Mashed Banana and Freshly Ground Peanut Butter on Chocolate Chips Banana Bread!
"If there's something on this Earth that tastes better than this, I'd like you to show it to me!" J.H. Waimea, HI

---
---
---
Homemade Pies, Cobblers & Tarts
served warm

---
Coconui DAIRY-FREE Ice Cream!
Coconut Cream is used as the base for this amazing dessert
(and it's so much creamier than Ice Cream!)
Ask about our various yummy flavors!

Warm pie. Cold ice cream.
Are you thinking what I'm thinking?!?

Triple Whammy Coconui Ice Cream Cake!
$8/slice
A layer of Chocolate Fudge Brownie Cake
Topped with a layer of Coconui Ice Cream
Drizzled with Melted Dark Chocolate!
---