Make a Reservation...Ask a Question...Give us Feedback...
808-345-7300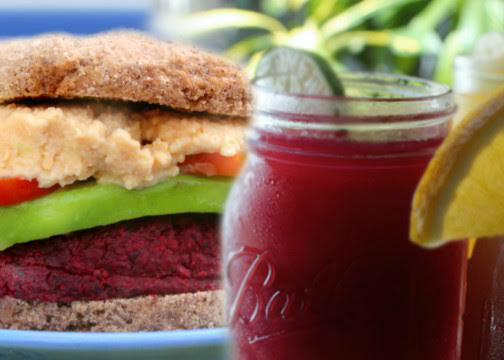 Serving Vegan Comfort Food
with Vegetarian Options

Breakfast & Lunch
Monday thru Friday
9:30am to 3:30pm
Saturday & Sunday
​11:00am to 2:00pm

Cozy outdoor Family-Style seating. Please, no chatting on cell phones. Mahalo.

---
We are located at 55-3406 Akoni Pule Hwy in Hawi, on the Big Island of Hawaii.
Directions: From Kona, look for us on your right as you enter Hawi, just a block past the Welcome Center.
From Waimea, coming along the Mountain Road, follow the sign to Hawi, turning left onto Hawi Road. At the STOP sign at the bottom of the hill, left again onto Akoni Pule Hwy. We're 3 blocks down... on your left!

Menu

---
~ Cereals & Such ~

Maple-Nut Granola
$6
Freshly Roasted & Toasted Oats, Macadamia Nuts and/or Almonds, Pumpkin Seeds, Sunflower Seeds, Coconut and Raisins
with Maple Syrup & Coconut Sugar baked in to give it just the right amount of Sweetness.
Served Cold with Coconut/Rice Cream

Rich & Creamy Oatmeal
$6
Rolled Oats and Sweet Potato with Figs & Raisins, cooked in Coconut Cream until Thick & Creamy.
Topped with Local sliced Banana & Toasted Coconut and served with Coconut Cream

*Belgian Waffle
$8.50 to $14
Ask about our Daily Special Sweet or Savory Belgian Waffle and Toppings!
(It's not unheard of to enjoy our Belgian Waffle for dessert!)
*Our Belgian Waffle batter contains egg.

Refreshing Açai Bowl
$11
Açai Berry & Banana puree, Topped with our Homemade Maple-Nut Granola, Sliced Banana & Seasonal Fruits,
drizzled with Honey & sprinkled with Toasted Coconut

---
~ Combos ~

Toast & Gravy
$4
Two slices Fresh Baked Bread with Mushroom Gravy

Two Poached Eggs on Toast with Gravy
$8

☼ Monk Bowl
$7
A humble but flavorful bowl of Seasoned Wilted Greens with Citrus-Tamari Dressing over Rice

☼ Boco Moco
$10
Rice, Beetsteak & Poached Egg with Gravy on top

☼ Beetsteak Plate
$9.50
Our Famous Beetsteak (a delicious patty of Beets, Rice, Beans, Veggies & Spices) served with Smashed Sweet Potato,
Seasoned Wilted Greens & Mushroom Gravy

Huevos Paniolos
$13.50
Sweet Potato Kitchen honors our own Hawaiian Cowboys!
(with a slight spin on the ever-so-popular Huevos Rancheros)
A filling dish of Tomato-Chili Polenta, Spiced Beans, Local Avocado, Fresh Salsa Fiesta, Local Mixed Greens
Topped with Two Perfectly Poached Eggs.
If you prefer the VEGAN VERSION, we are happy to "Hold the Huevos" (no eggs) - $10

Curry Polenta Plate
$13.50
Creamy Curried Polenta Cake with Green Summer Squash & Onion folded in, Seasoned Wilted Greens and
Roasted 5-Spice Pumpkin over Rice.
Finished with a Curried Pumpkin Cream Sauce & Freshly Roasted Pumpkin Seeds over top.

☼ Add a Poached Egg to any item $1.75
---
---
SPK Beetsteak Burger Plate
$14
Beetsteak Patty, Special Sauce, Heirloom Tomato, Onion Jam and Mixed Local Lettuces and Sprouts on our Fresh-Baked *Sandwich Bread
Served with a side of Roasted Roots or Smashed Potatoes & Kimchee
*All our breads are Gluten-Free.
---
---
~ Hot Soups, Etc. ~

Simple Miso Mug
$4
Live Brown Rice Miso with Nori 'Noodles' and Sliced Green Onion

Warming, Soothing & Nutritious...mmm.


Today's Soup
Bowl $6 - $8
Our Soups change daily, so please check our Daily Specials to see what's in the Kettle!
(Whatever it is, it'll be fresh & delicious.)
Ask for a taste!


'Forbidden' Shiitake Congee
$7.50
Black 'Forbidden' Rice in a thick & savory porridge of Garlic, Ginger, Shiitake Mushrooms and Local Greens. Garnished with Green Onion & Roasted Peanuts.
☼ Traditionally enjoyed with an egg on top.

---
~ Cold Salads ~

Caribbean Beans
$7
Red Beans & Black Beans with Fiesta Sweet Peppers and Green Onion in a Cilantro, Garlic & Lime Marinade.


Garden Quinoa Mediterranean
$7
Quinoa, Cucumber, Tomato & Red Onion tossed in a Lemon-Pepper-Olive Oil with Kalamata Olives.


Curly Kale & Carrot
$7
Local Curly Kale & Carrots tossed in a Creamy Ginger Dressing and sprinkled with freshly toasted Pumpkin & Sunflower Seeds

---
Feel free to substitute and/or add sides. Be creative & Enjoy!

---
Local Banana
$1
You'll often see a rack or two of bananas hanging outside! If you do, feel free to help yourself. Just let us know.
Freshly ground Peanut Butter
$2
Add a dollop to your cereals or breads
Homemade Jelly or Jam
$2
Mango? Blueberry? Strawberry? Ask about Today's flavor(s)
Salsa Fiesta!
$2
Made in our Kitchen with all the freshest ingredients: tomatoes, green onion, garlic, cilantro, red onion, sweet peppers & lime juice
Fresh Local Avocado
$2
Scoop of Volcano Rice
$3
A blend of Red & Brown Rices from Indonesia
Scoop of Quinoa
$3
Add some extra protein to your meal!
Perfectly Poached Egg
$1.75
Our eggs are from Local Pastured Hens and are Poached in the traditional broth of Lemon & Vinegar Water
Seasoned Wilted Greens
$4
Local Kale & Collards are dragged for a brief moment through steamy water just long enough to 'wilt' them.
Then tossed in our Citrus-Tamari Sauce
Cuban Spiced Beans
$3.50
Small Red Beans are seasoned with salt, pepper, onion, garlic & cumin. Simple & delicious.
Polenta Cake
What is Polenta? Polenta is a coursely ground corn meal (ours is organic and non-GMO of course!) cooked in water with vegetables & seasoning blended in. As it cools, it firms and is served as a 'cake'.
We offer two versions:
Tomato-Chili Polenta
$3.50
Polenta cooked with Tomatoes, Sweet Peppers, Cilantro, Green Onion, Salt & Cayenne Pepper
Creamy Curried Polenta
$3.50
This Polenta is cooked with sauteed Zucchini & Onion added along with our own blend of Curry Seasoning & Coconut Cream
Beetsteak Patty $3.50
We blend beets, brown rice, carrots, onions, black beans, pinto beans, sweet potato, oats, raisins, mushrooms, herbs & spices
Then press into patties, bake and voila! The best vegan "burger" we've ever tasted. We hope you enjoy it just as much!
Smashed Sweet Potato $3.50
Adding just enough coconut cream and Himalayan Salt to bring out the sweetness of the potatoes. Fantastic with Mushroom Gravy!
Herb-Roasted Roots $4
Locally available roots are seasoned and roasted. Ask about "Today's" Roots.
Kim Chee $3
Our very own Kimchee (medium spicy) is made with Local Cabbage, Daikon, Carrots, Green Onion, Ginger and other various veggies.
(Apples too, when we can get'em!)
Very good for you... enjoy Kimchee at every meal!
Mushroom Gravy $2
Maitake, Reishi & local Shiitake Mushrooms (the healing mushrooms!) along with oils, vinegars, herbs, spices and
various local roots like cassava, carrots & potatoes are all cooked in a huge pot until the gravy gets thick and becomes golden.
It's an amazing flavor and also extremely healthy!
Enjoy it on anything.
Enjoy it on Everything!
---
Take it with you!
(call ahead to be sure we have what you need)
Citrus-Tamari "Greens" Sauce
Creamy Ginger Dressing
Balsamic-Date Dressing
Mushroom Gravy
Beetsteak Patties
Special SPK Burger Sauce
SPK Curry Powder Blend
SPK Garam Masala Blend

---
---
---
---
~ Sweet Alchemy ~

Banana Bread
$4/slice


Choc Chips Banana Bread
$5/slice


Sweet Potato Raisin Bread
$5/slice


Orange Bread
$4/slice
---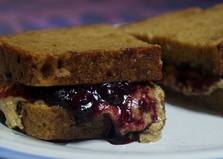 _Peanut Butter & Jelly on Banana Bread $6
Freshly Ground Peanut Butter and Homemade Jelly on
Hot-Outta-the-Oven Banana Bread!
Mashed Banana & Peanut Butter on Chocolate Chips Banana Bread $7
Mashed Banana and Freshly Ground Peanut Butter on Chocolate Chips Banana Bread!
"If there's something on this Earth that tastes better than this, I'd like you to show it to me!" JH, Waimea
---
---
---
Homemade Pies & Cobblers
served warm
$6/slice

---
Coconui DAIRY-FREE Ice Cream!
4oz serving $4
Coconut Cream is used as the base for this amazing dessert
(and it's so much creamier than Ice Cream!)
Ask about our various yummy flavors!

Warm pie. Cold ice cream. Are you thinking what I'm thinking?!?

---
Triple Whammy Coconui Ice Cream Cake!
$8/slice
A layer of Chocolate Fudge Brownie Cake
Topped with a layer of Coconui Ice Cream
Drizzled with Melted Dark Chocolate!

---
~ Tasty Beverages ~
All beverages are 12oz (and Vegan) unless otherwise specified.

French Press Organic Coffee
$3


We offer only one Coffee, so we choose a Locally sourced Organic Kona Coffee that we hope you will enjoy. Please note, there is a 5 minute steep time... it's worth the wait!


Chicory "Coffee"
$3


The Roasted Roots of Chicory have a very similar taste to coffee and are commonly used as a Coffee Substitute. Enjoy them individually or as a blend.


Guayusa
$3


This Leaf contains the same caffeine as Coffee but also contains Theobromine (found in Dark Chocolate). The mix of the two create a pleasant balance. (all the stimulation without the "jitters" or "crash")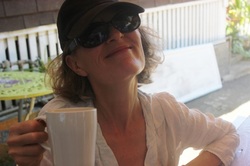 Masala Chai
$6
This Rich & Creamy drink is adapted from the recipe of a Ceremonial Drink of India,
traditionally enjoyed during Holi Festival.
Coconut Milk, Coconut Cream, SPK Garam Masala, Ginger, Vanilla and Honey.
Combined with India Black Assam Tea, it's delicious!

---
---
~ Tea House ~

Loose Teas ~ $3
Steeped in a 12oz Press
Traditional Tea - contains caffeine

India Green


Highest levels of Antioxidants are found in the Loose Tea vs bagged or bottled
Enjoy!



Jasmine


Green Tea scented with Jasmine Flowers



Yerba Mate Cocido


"The Nutritious Stimulant" high in minerals with 5x the Antioxidants of Green Tea! Traditionally prepared in a gourd, drank through a Bombilla... Ours is served "Mate Cocido" style using a French Press.

Loose Teas, Naturally Caffeine-Free

Chamomile


German Chamomile.
Let it relax you.



Guardian Spirit


This blend of Burdock, Sheep Sorrel, Slippery Elm & Rhubarb is similar to the Cancer-healing Essiac Tea used by Rene Caisse beginning in the early 1900's



Hibiscus


Dried Flowers, high in Vitamin C with a Cranberry-like fragrance and flavor



Lemongrass


Drink this refreshing lemony tea which aids digestion, lowers blood pressure and brightens eyes & skin!


Peppermint


Great for fresh breath and digestion.



Spearmint


Loaded with Vitamins, Antioxidants & Vital Nutrients!



Rooibos (roy-boss)


"Red Bush" from South Africa. A member of the legume family. High in Antioxidants, low in tannins.



Tulsi (Holy Basil)
"Queen of Herbs"


"Increases the body's ability to resist the damaging effects of stress and promote or restore normal physiological functioning"


Bagged Teas ~ $2
All Bagged Teas are served sealed alongside a cup of hot water.
Steep for approx 5 mins unless otherwise noted. C = Contains Caffeine
Pukka Organic Herbal Teas

Ayurvedic - Relax


To calm and soothe. Chamomile flower and Gotu Kola Leaf help you unwind. Fennel seed, Ginger and Cardamom seed ease digestion. Marshmallow root and Licorice help to settle the mind. Also contains Ashwaganda.



Ayurvedic - Refresh


To uplift and balance. Peppermint leaf, rose flower and hibiscus flower are wonderfully refreshing. Fennel seed and coriander seed assist digestion. Licorice is both nourishing and balancing.



Ayurvedic - Revitalise, C


To warm and invigorate. Cinnamon bark, ginger root and clove are warming. Elderflower, orange peel and licorice can help clear congestion. Green tea and spearmint leaf boost vitality. Also contains black peppercorn.


Balancing Tea Cleanse


To purify your skin. Nettle leaf cleanses and nourishes the skin. Fennel seed, peppermint leaf and dandelion root assist digestion. Aloe vera juice and licorice root purify and refresh.



Balancing Tea
Detox


To cleanse and revive. Fennel seed and aniseed help to cleanse. Cardamom seed helps to clear congestion. Licorice root is calming and nourishing. Also contains coriander seed & celery seed.



Balancing Tea
Harmonise


Balancing for women. Rose flower, hibiscus and vanilla help rejuvenate. Chamomile flower helps soothe and restore. Shatavari can help nourish women's health. Also contains Licorice Root



Balancing Tea Morning Time


For a caffeine-free lift. Rooibos, Honeybush, Red Ginseng & Roasted Maca


Three Ginger


To uplift & warm. Ginger, Galangal, Golden Turmeric & Licorice Root



Three Mint


To refresh & soothe digestion. Peppermint, Spearmint & Fieldmint



Three Tulsi


To uplift and restore. Rama Green Tulsi, Krishna Purple Tulsi & Vana Lemon Tulsi


Fresh Squeeze Orange
(when available)
8oz $4


Fresh Squeeze Grapefruits
(when available)
8oz $4


Refresh with a Cooler!
$4


These drinks are a blend of fresh juices, squeezed from local fruits and sweetened with a little evap cane juice.


Replenish with an Aide!
$5


When it's hot outside', we lose not only water but also minerals. With freshly squeezed Citrus, Honey & Himalayan Salt, you will not only rehydrate but replace your lost minerals as well.
(our Healthy version of Gatorade!)

Availability of local fruits will always determine what drinks we are serving.
Revitalize with a Cool Tea!
$3
Chilled Traditional, Herbal, Floral and Ayurvedic Teas

Flavors are determined by availability of local herbs, fruits & flowers. Check with us for "Today's Flavors"